SIZE CHART
Regular price
Sale price
$24.99
Unit price
per
Sale
Sold out
Radiance Collagen is a hydrolyzed protein powder made with collagen that helps build and maintain healthy joints, skin, hair, nails, teeth and bones. It also can reduce pain and improve mobility in people with degenerative osteoarticular pathologies.
Benefits

✅ Improves mobility.
✅ Reduces joint pain.
✅ Protects joint health.
✅ Reduce the risk of injuries.
✅ Reduce muscle-joint ruptures.
How to use

Dissolve two tablespoons (32g) in a glass (240ml) of water, juice, or, preferably, milk. It can be made by adding fruit to a blender in the same way as a protein shake.
Materials

Biotin, Calcium, Collagen, Magnesium, Vitamin A, Vitamin B1, Vitamin B2, Vitamin B3, Vitamin B6, Vitamin B12, Vitamin C, Vitamin D3, Vitamin E, Vitamin K3, Artificial vanilla flavor, Isolated soy protein, Whey, Minerals (magnesium carbonate, tricalcium phosphate, ferrous fumarate, zinc sulfate), artificial sweeteners (aspartame, sucralose, acesulfame k, fructose), thickener ( guar gum), Pantothenic acid, Folic acid, Maltodextrin, Phenylalanine.
Warning

♦️ Not for Children 4 and under.
♦️ Contains milk and soy.
♦️ Phenylketonuria: Contains phenylalanine.
⚠️ Store in a cool, dry place, away from direct sunlight.
⚠️ The container must be covered right after serving the product.
Share with friends and family
View full details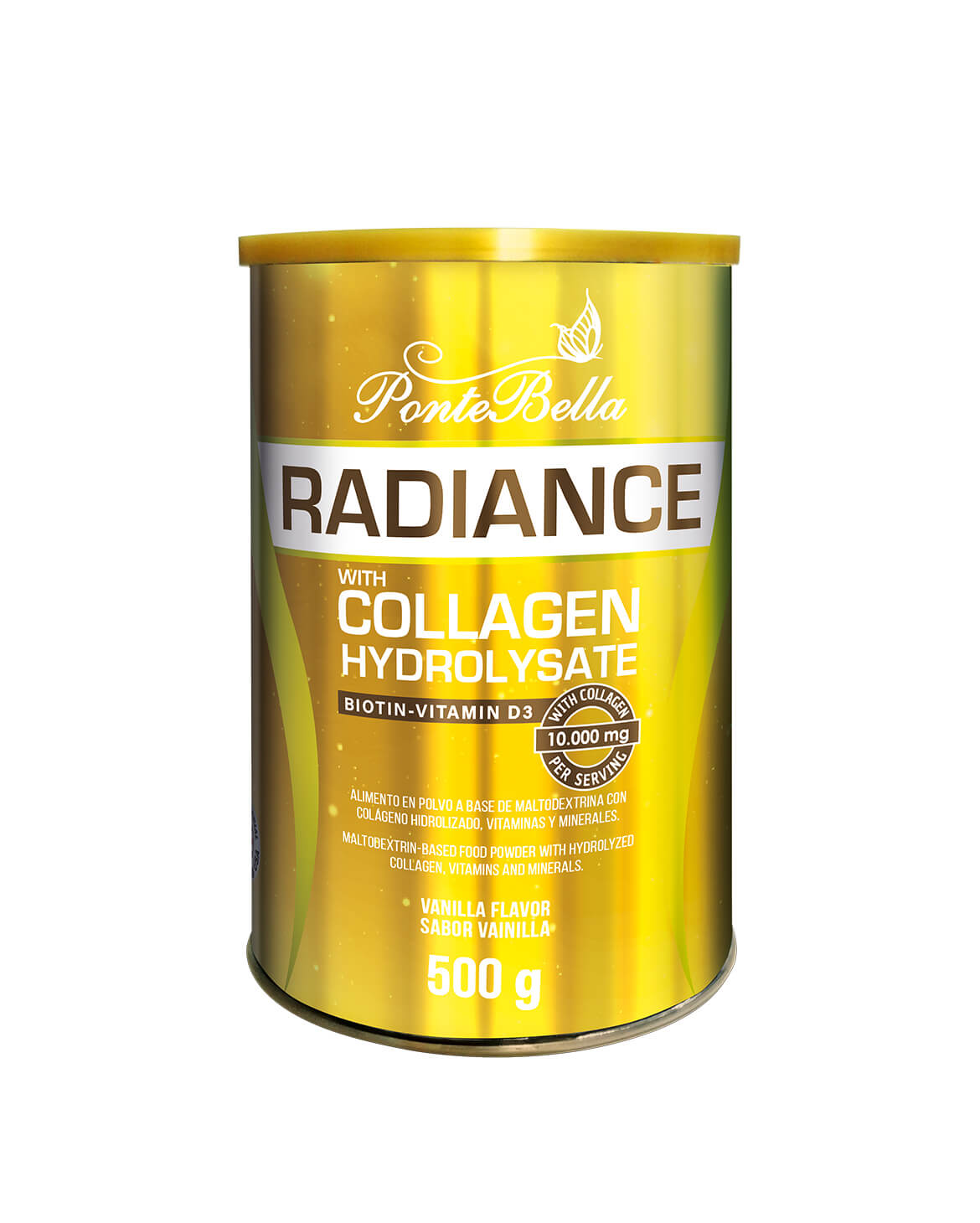 Chart Sizes

Fajas Size Chart
Waist Trainers Size Chart
Risk of injuries?

Ideal for athletes since hydrolyzed collagen is a source of amino acids with very good tolerance, digestibility, and bioavailability, it also reduces the risk of joint deterioration and improves physical performance.

Beneficial on the skin, joints, and articular cartilage

Radiance Collagen Protein is the perfect protein supplement for anyone who wants to improve their mobility, reduce pain, and live a better life.
Improve your joints, your skin, and your life